Herec Gabriel Tigerman před pár hodinami zatweetoval skvělou, že James právě natáčel díl v novém seriálu jeho ženy, herečky Kathryn Fiore, nový seriál se jmenuje The Wedding Band a je to 60 minutový komediální seriál, který natáčí TBS, což je komediální kanál kabelové televize Turner media, pod které spadá i známnější kanál TNT. Seriál by měl mít premiéru v červnu.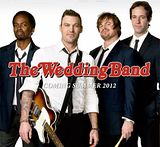 @GabrielTigerman: #SupernaturalFans…@JM_Live (Don Stark) just shot a guest spot on my wife's (@KatFiore13) new show: @WeddingBandTBS (debuts this June!)

@KatFiore13: @GabrielTigerman @weddingbandtbs @jm_live is amazing on #theweddingband! So hilarious. Loved working with him!
EDIT: Oficiální facebook stránka James Marsters dnes (19. ledna 2012) tuto zprávu potvrdila!
James právě dokončil natáčení dílu nového seriálu THE WEDDING BAND stanice TBS. Datum vysílání zatím není známé.
FremantleMedia 3. října 2011 oznámili, že práva na seriál zakoupily stanice ve Velké Británii (Kanál 5) a v Latinské americe.
Tady je něco málo o tomto seriálu ze servru Deadline.com, z 11. května 2011:
The Wedding Band, scénáristů a výkonných producentů Joshe Lobise a Darina Moiselle (South Park), FremantleMedia a Mike Tollin 's Tollin Prods., sleduje příběhy skupiny chlápků, kteří hrají na svatbách, hlavní pouto skupiny je mezi dvěma celoživotními nejlepšími kamarády, věčným starým mládencem Tommym (Brian Austin Green) a Eddiem (Peter Cambor), ženatým otcem dvou dětí. Mezi další herce patří Perrineau, Kathryn Fiore, Jenny Wade a Derek Miller.
Tady je oficiální tisková zpráva z TNT, z 18. května 2011:
TBS dalo zelenou seriálu The Wedding Band (prozatím pracovní název), hodinovému komediálnímu seriálu, za kterým stojí produkční společnosti FremantleMedia a Mike Tollin Productions. TBS objednalo 10 dílů, mezi hlavní herce patří: Brian Austin Green (Beverly Hills, 90210, Desperate Housewives), Harold Perrineau (Lost, Oz), Peter Cambor (NCIS: Los Angeles, Notes from the Underbelly), Derek Miller (Secret Girlfriend) and Melora Hardin (The Office). Výkonným producentem je Mike Tollin (Smallville, Arli$$). Josh Lobis (South Park) a Darin Moiselle (South Park), napsali scénář pilotního dílu a jsou zároveň spoluproducenty s Ben Spector (Two Brothers). Pilotní díl režíruje Bryan Gordon (Curb Your Enthusiasm), který je také spoluproducentem tohoto dílu.

Seriál sleduje neštěstí čtyř kamarádů, kteří tráví svůj volný čas hraním v kapele. Seriál se dostane na TV během léta 2012.
EDIT: @jeanbugc tweetovala @KatFiore13 dotaz, koho bude James hrát a podle odpovědi to je Britská rocková hvězda
A nakonec ještě jedna informace týkající se nového projektu Jamese. Tím projektem je film Dragon Warriors, který natáčel v listopadu 2011. IMDB aktualizovalo stránku tohoto projektu, takže jednou z novinek je jméno postavy Jamese – Lord Tensley. A také se tam můžeme dočíst, že se v tom filmu objeví také Luke Perry (Jeremiah, Beverly Hills, 90210)