Gabriel Tigerman tweeted few hours ago wonderful news about James Marsters' guest appearance on his wife's (actress Kathryn Fiore) new TV series The Wedding Band – which is 60 min long comedy TV show for TBS (a division of Turner Broadcasting System, Inc., it's television's top-rated comedy network). The series should debuts in June.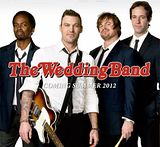 @GabrielTigerman: #SupernaturalFans…@JM_Live (Don Stark) just shot a guest spot on my wife's (@KatFiore13) new show: @WeddingBandTBS (debuts this June!)

@KatFiore13: @GabrielTigerman @weddingbandtbs @jm_live is amazing on #theweddingband! So hilarious. Loved working with him!
EDIT: The official James Marsters facebook page confirmed this news today (Januray 19, 2012)
James just completed a guest spot on TBS' new series THE WEDDING BAND. No air date scheduled yet – stay tuned.
FremantleMedia announced on October 3rd 2011 the sale of brand new drama The Wedding Band (10 x 1 hour) to broadcasters in the UK (Channel 5) and Latin America.
Here are some bits about The Wedding Band TV series from Deadline.com:
The Wedding Band, from writers and executive producers Josh Lobis and Darin Moiselle (South Park), FremantleMedia and Mike Tollin's Tollin Prods., follows a group of guys performing in a wedding band, anchored by two lifelong best friends — perennial bachelor Tommy (Brian Austin Green) and Eddie (Peter Cambor), a married father of two. Co-starring in the pilot are Lost alum Perrineau, Kathryn Fiore, Jenny Wade and Derek Miller.
The official TNT press release – May 18 2011:
TBS has also given the greenlight to The Wedding Band (working title), an hour-long comedy from FremantleMedia and Mike Tollin Productions. TBS has ordered 10 episodes of the series starring Brian Austin Green (Beverly Hills, 90210, Desperate Housewives), Harold Perrineau (Lost, Oz), Peter Cambor (NCIS: Los Angeles, Notes from the Underbelly), Derek Miller (Secret Girlfriend) and Melora Hardin (The Office). The show is executive-produced by Mike Tollin (Smallville, Arli$$). Josh Lobis (South Park) and Darin Moiselle (South Park), who wrote the pilot, serve as co-executive producers with Ben Spector (Two Brothers). Bryan Gordon (Curb Your Enthusiasm) directed and also served as co-executive producer on the pilot. The show, which follows the misadventures of four friends who spend their spare time performing in a band, is slated to premiere in summer 2012.
EDIT: @jeanbugc tweeted @KatFiore13 with a question what kind of character James played and got a nice reply!
@jeanbugc he plays a British rock star. It's a great episode. He's awesome!
And finally, IMDB has updated a page dedicated to new James' movie Dragon Warriors, which he filmed during November 2011. Thanks to their information we know James' name now – it's Lord Tensley. We have also learned that Luke Perry (Jeremiah, Beverly Hills, 90210) is his co-star in this movie.